All you need to know about Schizo:Geri.
HISTORY:
Without knowing any HTML. Santiago (The webmaster) began creating a page for the godess Geri Halliwell. He wanted it to be perfecta and to ahve everything that a fan needed. The site was born on November 1st 1999 (The day that 'Lift me up' was released). It was in santiago's native languaje: Spanish. He contacted every single person he knew in internet to make them visit his site...
SPANISH VERSION: Schizo:Geri 0.1 (November 1/99 - November 21/99)
The page online lasted online 3 weeks. The server where it was hosted didn't show visitors the update that Santiago made. It was always updated but no-one could see the news or the new wallpapers or the new pic of the week. During those 21 days Schizo:Geri got over 200 visitors. Not bad for a beginner with such a bad site... The graphics were made in Powerpoint... The design was made in Frontpage express...
PICTURES:::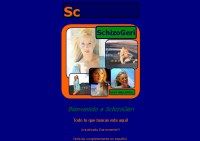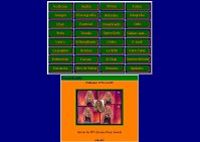 LINK::: Want to see Schizo:Geri's first ever version??? Click here
SCHIZO:GERI V1: English (January 18/00 - March 31/00)
This version was originally going to be launched on February 1st, but I had it all ready before January 15th, I just looked for a server that gave me more than 15 megs and an easy to remember address, There was Freeservers, It had a lot of advantages but a lot of disadvantages too, the best thing I saw in freeservers was the file manager, It was cool, the address .8m.com was also cool, I began uploading. I didn't like the banners that Freeservers put on the top of each page but what could I do???...
In January 31st I got an e-mail from Celebrity Site Of The Day that said that We had won the Celebrity Site Of The Day, I was the first Geri site that won this award, I was really happy, It was wicked... A beginner page just won one of the most famous awards of the net of entertainment sites. Schizo:Geri also entered something that was called "The 500 Teddy Bear Sites Of The Day" at number 2, It stayed there for a while....., The page soon became a bigger site.... Geri released Bag it up during this design so I decided to make a special design, It was purple and pink , quite nice.... Everything went back normal and then I decided to make a new design , I had a big idea , and I made it reality..... I just had to say bye to the blue and yellow design.... It shut down on March 31st 2000.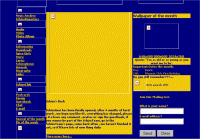 SCHIZO:GERI V2: English (April 1/00 - October 31/00)
This version was launched on April 1st, The colors were Orange , Black , White and a little bit of gray, It was just so cool because Schizo:Geri became a really big site, It was just one of the 3 biggest Geri sites on-line... After Trixie Firecracker's death, the fans needed a new cool site with all they wanted, There we were. always trying to improve. The visitors raised and the page was giving more services, More often updates... This "Halloween" Style Closed just on the Halloween day, I'm still proud of it , I really got a lot of visitors with this version...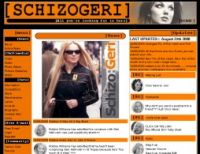 SCHIZO:GERI V3: English (November 1/00 - August 5/01)
Schizo:Geri released its new design just a year after the Spanish version was released. The new colours were green, black and grey... Schizo:Geri was one of the biggest Geri Halliwell fansites on the internet. It lasted 9 months online. We got over 140000 visits.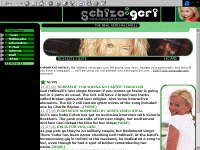 SCHIZO:GERI V4: English (August 6/01 - June 23/02)
This version lasted 10 months. I decided not to change it because I couldn't find a new version that would top the one I had. Maybe this current version is still not the best but I like it. Many people said they liked SchizoV3 instead. I loved the pictures on this version. It had a different style and the colors were good.